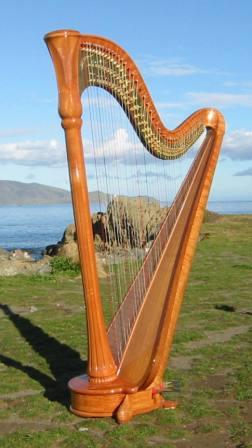 Kim Webby Harp in Hamburg's Laeiszhalle-Musikhalle

New Zealander Kim Webby built his first harp when his sister Helen began to play. Since then he has hand-crafted scores of lever harps and several concert grand pedal harps, internationally acclaimed for their warmth, clarity, and responsiveness, as well as supreme craftsmanship.
Kim uses New Zealand and North American timbers to create his own unique designs, inspired by NZ flora and traditional art.
You can contact Kim Webby here

Kim Webby Harp in Vienna's Musikverein, during the NZSO's 2010 tour to Europe

In Lucerne's Konzertsaal with Helen Webby on second harp

"I recently used one of Kim Webby's harps on a tour of New Zealand and found it to have a beautiful sound and feel, as well as terrific projection and even tone. The beautiful aesthetic of the instrument, complete with authentic New Zealand detail, was an added bonus. It was a pleasure and a privilege to perform on Kim Webby's harp."
"Carolyn Mills bragged about her extraordinary 'Webby' harp many years ago, so I was quite interested in playing this rare breed of harp. At first the sound was so unlike anything I had heard or played before I didn't know how to appreciate it. I heard the orchestra Webby harp in rehearsal and played it a bit, and then tried Carolyn's home harp again. My ear had adjusted to the new acoustic and feel of the instrument. The sound is clear, warm, and bright at the same time. It also projects well through a dense orchestration. The sound is beautiful throughout softest to loudest dynamic range. The tone is complex without being muddy. I would love to own one as the sound is unique.
Kim is the ultimate artist craftsman."
~ Susan Dederich-Pejovich, Principal Harpist, Dallas Symphony Orchestra
~~~~~~ VISIT KIM'S WEBSITE ~~~~~~~