An Enchanted Land
Check out Carolyn's most recent recording project, featuring a number of Celtic pieces for solo harp.
Released by Atoll Records.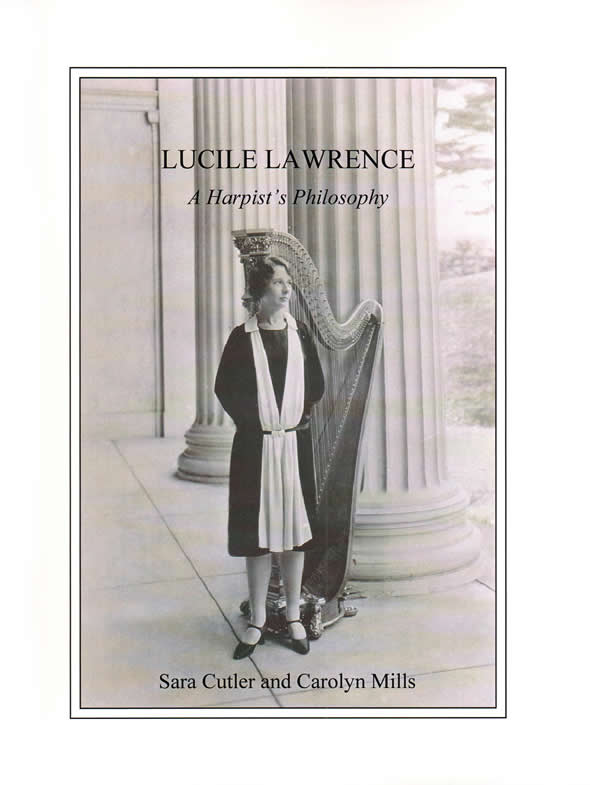 Lucile Lawrence
A Harpist's Philosophy
Sara Cutler and Carolyn Mills
A tribute to Lucile Lawrence and her unique teaching methods and philosophies.
Published by Lyon and Healy
Available at harp.com.
Vacances parisiennes | Kevin Kaska
Interviews and Radio
Carolyn is passionate about the harp and enjoys discussing the harp and harp music in interviews. Check out some below:
Radio New Zealand interview with Brian Crump:
NZSO Principal Harp Carolyn Mills has a new album out on the Atoll label. An Enchanted Land is a selection of traditional Celtic melodies for solo harp - and it is a concert harp, rather than a Celtic or folk harp. Carolyn has arranged several pieces herself, including 'She Moved Through the Fair' and 'George Brabazon'.
Performance by the Amici Ensemble on Radio New Zealand:
The Amici Ensemble was formed in 1988 and the performers are mostly principal players with the NZSO and leading chamber musicians on the New Zealand music scene. For this concert, Amici comprises Donald Armstrong (violin), Malavika Gopal (violin), Andrew Thomson (viola), Ken Ichinose (cello), Bridget Douglas (flute), Patrick Barry (clarinet) and Carolyn Mills (harp).
Testimonials and Reviews
On préludes & romances:
...unpretentious and lovely recital, enchanting for the clarity, grace, and consummate musicianship of her playing.

The New Zealand Listener
As a passionate ambassador for the instrument, she has collaborated with composers and inspired new works, several of them on the 18 tracks of this CD. This recording shows the diversity and beauty of sounds possible from the harp, played by an expert soloist.

Otago Daily Times
On Carolyn's playing:
...Some of the most atmospheric and diaphonously-woven harp playing in this piece I have ever heard...incomparably sensitive...

Peter Mechen, middle-c.org
Within her sound is a core of grit and strength too often missing from the playing of modern harpists.

Steve Elman, WBUR Radio, Boston
Ravishing sounds, memorable ideas and economy of gesture were incorporated in a performance of great sensitivity and technical accomplishment.

John Button, Dominion, Wellington